PJSA Annual Conference
---
PJSA 2013 Conference
October 17-19, 2013
"Peace Studies between Tradition and Innovation"
CO-HOSTED BY: WILFRID LAURIER UNIVERSITY DEPARTMENT OF GLOBAL STUDIES, AND CONRAD GREBEL UNIVERSITY COLLEGE / UNIVERSITY OF WATERLOO PEACE AND CONFLICT STUDIES PROGRAM
WATERLOO, ONTARIO, CANADA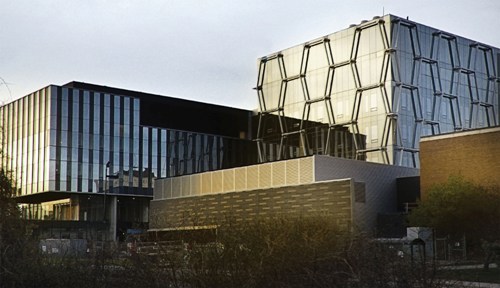 The enduring tension between tradition and innovation, and between continuity and change, will be the overarching theme of the 2013 meetings of the Peace and Justice Studies Association, to be jointly hosted in Waterloo, Ontario by the University of Waterloo's Conrad Grebel University College and Wilfrid Laurier University's Department of Global Studies. Inspired by the broader Kitchener-Waterloo region -- where a long and distinguished history of Mennonite peacemaking exists alongside a growing reputation as one of Canada's most dynamic high-technology hubs -- the 2013 PJSA conference theme honours the tradition, history and accomplishments of the peace and justice studies movement while simultaneously seeking to expand the movement's frontiers in search of new and innovative ways to promote both the practice and the culture of peace in a divided world. The conference will include sessions from across a wide range of disciplines, professions and perspectives on issues such as the innovative use of social or communications technology in the promotion of peace, the use of unconventional or unorthodox peace promotion strategies by long-established actors in the field, or on the comparative accomplishments of 'new' vs. 'old' actors in the field of peace and justice studies. Confirmed keynote speakers include: Nobel Peace Laureates Jody Williams (1997) and James Orbinski (1999), and George Roter (Engineers Without Borders).
* * *
The 2013 Conference will also include a Teachers' Professional Development Strand, featuring interactive sessions, case studies, sharing of classroom strategies or practices, or thematic units related to the following topics:

• Conflict resolution
• Restorative justice
• Restorative practices
• Social justice
• Peaceful schools
• Aboriginal perspectives on peace and justice
• Teaching about World War I
• Teaching peace in the presence of war
• Learning circles
• Faith-based perspectives on peacemaking
• System change issues related to peace or justice
• Alternative programming
• Section 23 classes and restorative justice
The keynote speaker for the TPD strand will be Deborah Ellis, author of twenty books including My Name Is Parvana, and winner of the Governor General's Award, the Ruth Schwartz Award, the University of California's Middle East Book Award, Sweden's Peter Pan Prize, the Jane Addams Children's Book Award, and the Vicky Metcalf Award for a Body of Work. She recently received the Ontario Library Association's President's Award for Exceptional Achievement, and she has been named to the Order of Ontario. Ellis donates most of her royalty income to worthy causes — Canadian Women for Women in Afghanistan, Street Kids International, the Children in Crisis Fund of IBBY (International Board on Books for Young People) and UNICEF. She has donated more than $1 million in royalties from her Breadwinner books alone.
* * *
Special Pre-Conference Sessions
• Pre-Conference (Thursday, October 17, morning/afternoon): Post-Conflict Peacebuilding Workshops, open for PJSA registrant attendance. Theme to fit into vertically integrated peacebuilding (note: concurrent panels on peacebuilding will also be featured within the main conference).
• Pre-Conference (Thursday, October 17, morning/afternoon): Mediation/Restorative Justice Workshops.
For more information on pre-conference sessions, email: info(at)peacejusticestudies.org
* * *
Special Saturday Night Event!
"War Requiem" by Benjamin Britten
October 19, 2013 7:30pm
Centre in the Square
101 Queen St. N., Kitchener, ON
The Grand Philharmonic Choir with the Grand Philharmonic Children's Choir, Grand Philharmonic Youth Choir, Laurier Singers, Kitchener-Waterloo Symphony and soloists: Russell Braun, baritone; Leslie Ann Bradley, soprano; and Thomas Cooley, tenor. Mark Vuorinen, conductor.
The War Requiem is thought by many to be the greatest choral work of the 20th century. Britten's heart-breaking music combines with Wilfred Owen's poetry of the First World War, and the words of the Requiem Mass, to bring us an experience full of moral and emotional depth. Our performance marks Britten's 100th birthday, and is offered in partnership with the Peace and Justice Studies Association academic conference, hosted in Waterloo.
For more information, please visit: http://www.grandphilchoir.com/2013-14/event/war-requiem/. If you would like to reserve a ticket (at special discounted rates for conference attendees: $55 for A+ seating, $45 for A seating, $35 for B seating, or $20 for C seating), please email as soon as possible: info(at)peacejusticestudies.org.
* * *
Undergraduate Student Innovation Competition
Because of Waterloo's reputation as an innovative/creative place, this year's conference focus is on innovation. As a result, the conference organizers would like to invite all undergraduate students to submit innovative ideas to a competition. This competition is wide open; undergraduate students from any discipline are encouraged to be involved. Student submissions may be abstract or concrete, physical prototype or conceptual idea, technical or non-technical; the range of possible submissions is wide open.
Possible Topics and Examples: A mobile smartphone app; Justice networking tool; Microfinance app; An economic or philosophical essay; Alternative currencies; An engineering device; Micro-energy systems; Water filtration; A work of art; Painting, Sculpture, Photographic essay; A scientific principle or development; Biogas or ethanol systems; A game or recreational tool; International Peace & Justice trivia game; or really any other idea or development which promotes some aspect of peace and justice.
The competition will be adjudicated by an interdisciplinary committee, including representatives from the Faculty of Engineering (Systems Design), the Faculty of Arts (Global Studies – WLU and Peace and Conflict Studies – CGUC), the School of Business, and one or two other departments or faculties. The competition will be in the form of a poster presentation, whereby you will be provided with a 3 foot (high) by 6 foot (wide) backdrop for a poster, with a table for any physical prototype, prop, work of art, etc. You should have a presentation prepared, of approximately five minutes, in which to explain the rationale and innovation of your idea.
By October 1, 2013:
* Prepare a title and a short description
* Register (free!) for the competition at www.peacejusticestudies.org (follow the links for conference registration and select "Already pre-registered" with the "Innovation" in the comments bok)
On October 18, 2013:
* Have your idea / art work / device / computer program / essay prepared
* Have a poster, display, or backdrop prepared
* Offer a brief presentation to judges and other conference participants
Competition submissions will have the opportunity to be recognized by awards in the following categories: (1) Best presentation, (2) Most innovative idea, (3) Greatest potential for Peace & Justice impact. In appreciation of the work that students put into their submission, the registration fee will be waived for competition entrants. All competition participants will be welcome to take part in all other aspects of the conference.
For further information, please contact Paul Fieguth at fieguth@uwaterloo.ca">pfieguth(at)uwaterloo.ca
* * *
KEYNOTE AND PLENARY SPEAKERS (confirmed):
JAMES ORBINSKI, OC, MSC, Bsc, MD, MA, is a physician, writer, and humanitarian activist. He is an associate professor of Medicine at the University of Toronto and a Fellow at the Munk School of Global Affairs. In January 2011, he also assumed the Chair of Global Health at the Dalla Lana School of Public Health, University of Toronto, and in 2013 became the CIGI Chair in Global Health Governance and Director of the Africa Initiative at the Centre for International Governance Innovation. He was President of the International Council of Médecins Sans Frontières (aka Doctors Without Borders) at the time the organization received the 1999 Nobel Peace Prize.
GEORGE ROTER is the co-founder and CEO of Engineers Without Borders (Canada). He and Parker Mitchell founded the Canadian organization in 2000. Roter received a bachelor's degree in mechanical engineering from the University of Waterloo and left part-way through his master's degree to focus full-time on Engineers Without Borders. His area of research was orthopaedic tribology, particularly studying hip implants under John B. Medley. In 2004, he was selected to be on Canada's Top 40 Under 40 list.
JODY WILLIAMS, known around the world for her work in banning anti-personnel landmines, her defense of human rights – especially those of women – and her efforts to promote new understandings of security in today's world. She was awarded the Nobel Peace Prize in 1997 for her work as the founding coordinator of the International Campaign to Ban Landmines.
Conference News
Submit a Proposal
Call for Award Nominations



Sponsorship and Tabling
Learn More...
Program Ads & Tabling